I've drawn hundreds of floor plans. Today, you'll learn my top tips so you can quickly and easily draw a floor plan of a house. Sound good? Let's go.
If you're new to this, we'll begin by answering a few basic questions about floor plans and why you should include them in your property listings. However, feel free to skip straight to Step 1 of my simple 7-step process to learn how to draw a floor plan in double quick time and with maximum accuracy.
Also, **spoiler alert** we partner with estate agents and property professionals to convert hand-drawn sketches into professional digital floor plans. If you're here for that, check out Floorplan Conversion.
Now, let's crack on.
Try Floorplan Conversion for FREE!
Sign up for 3 free orders. No contract. No credit card.
What is a floor plan?
A floor plan visually shows the layout of a property. Potential buyers and tenants love them as they help them visualise how the space is laid out. A floor plan can be produced in 2D or 3D and can also be used by architects and designers to describe the relationship between physical features, spaces, and rooms viewed from above.
Floor plans can also show the dimensions and orientation of the home which allows house-hunters to think about how their furniture will fit into the space and to picture where the sun will rise and set while they're having their morning coffee or evening summer BBQ.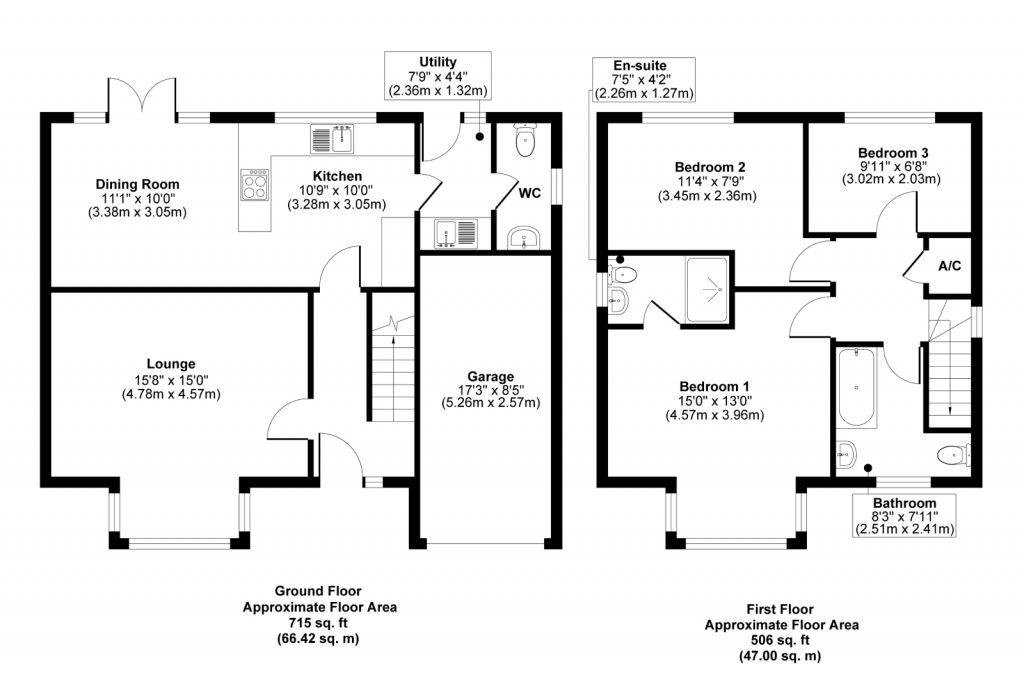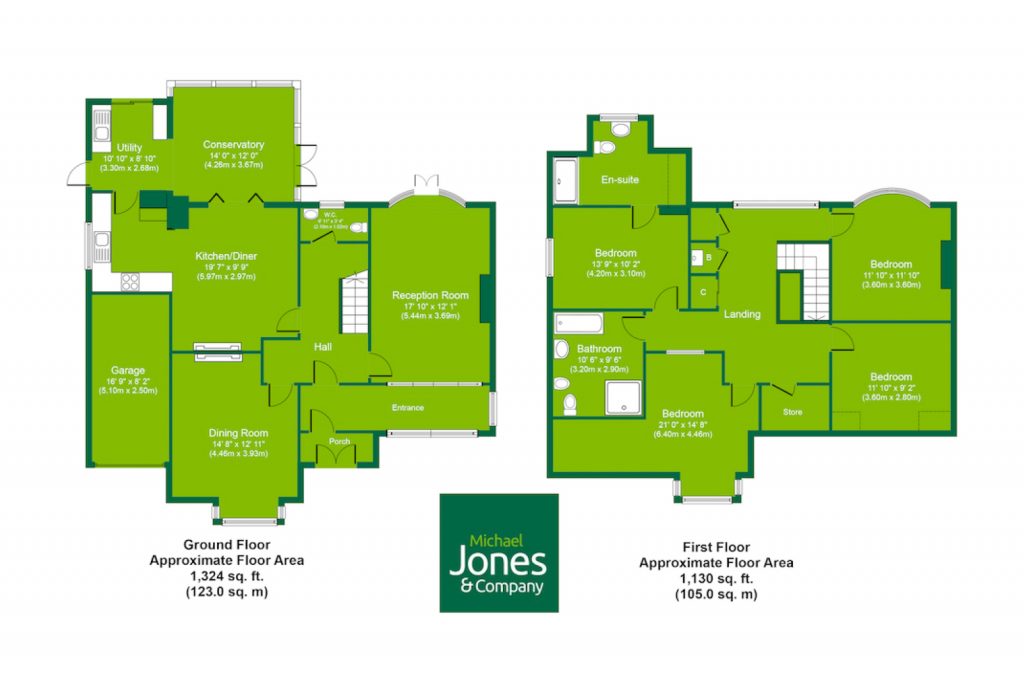 What do I need to draw a floor plan?
Here's what I use:
Pencil with an eraser – Any will do, I like these Bic's.
Graph paper – This pad by Silvine is good. Rip out 15-20 pages to keep things light.
Laser measure – The Leica D2 series is excellent.
Clipboard – Mine was from Asda.
Compass or compass app on your phone (if you want to show the North arrow).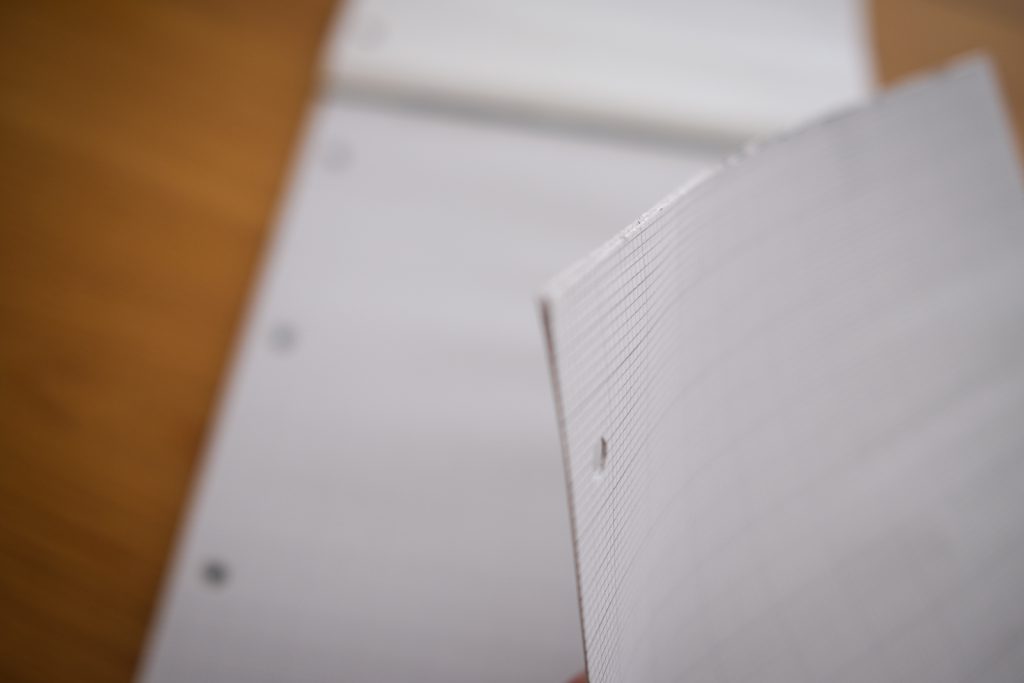 Should I create a floor plan in portrait or landscape?
Portrait orientation is better for thinner houses (it's also slightly easier to hold the clipboard), but the best layout also depends on the footprint or shape of the property. Landscape is better for wider houses – go figure.
Should I draw a floor plan of the house on one page or separate pages?
Either is fine. I'd give the slight edge to the option of drawing each floor on separate pages. Why? Because once you've finished the ground floor, you can make a note of where the corners that define the outline of the footprint are, then lift up the page and mark them down on the page below.
Then, it's a good old game of join the dots and in a few seconds, you've got the layout of the floor above ready to go. The ground floor and the subsequent floors above are not always exactly the same but this gives you a huge and speedy head start on sketching the floors above. Confused? See Step 3 below – it will all become clear.
What are the best apps for creating a floor plan?
There aren't any! Not that we like anyway. Most floor plan creation apps are fiddly and annoying. So, if you're here looking for the best apps to draw a floor plan then I'm afraid we ain't the place for you, my friend. We love keeping it old school with a laser measure, graph paper and a pencil.
Need your sketch converted into a finished floor plan? Now, that we can do. See Floorplan Conversion for more. You can even try it for FREE.
Try Floorplan Conversion for FREE!
Sign up for 3 free orders. No contract. No credit card.
How do I draw a floor plan of a house?
Ok, got your gear? Check! You're ready to rock. Now leave the property immediately. I'll dive into each of these 7 steps in more detail below but here's the general flow.
Begin outside, move inside to do the ground floor, copy the footprint for the floor above, get outside to mark the windows, back inside up the stairs to do the upper floor(s), final checks then send your plan to Elements Property for Floorplan Conversion.
Right, now for the detail. Here's my simple 7-step process for sketching an accurate floor plan in as little time as possible.
Step 1: Start outside and draw the ground floor walls, doors and windows
Go outside to the front of the house and, starting at the bottom of the page, sketch the outline of the ground floor. Leave a good amount of space at the sides in case there are any unexpected extensions or parts of the property that stick out. Also, don't start too big/wide as you'll run out of room later at the top of the page.
Mark roughly where any doors are, noting the direction it swings open. Mark any windows using a simple line. Don't worry about perfection, you can always adjust things on the fly with your eraser.
For simple homes, just starting with 1 or 2 of the external walls should be fine. For bigger and more complex properties, try and get around the back and get a full outline of the footprint before you head inside.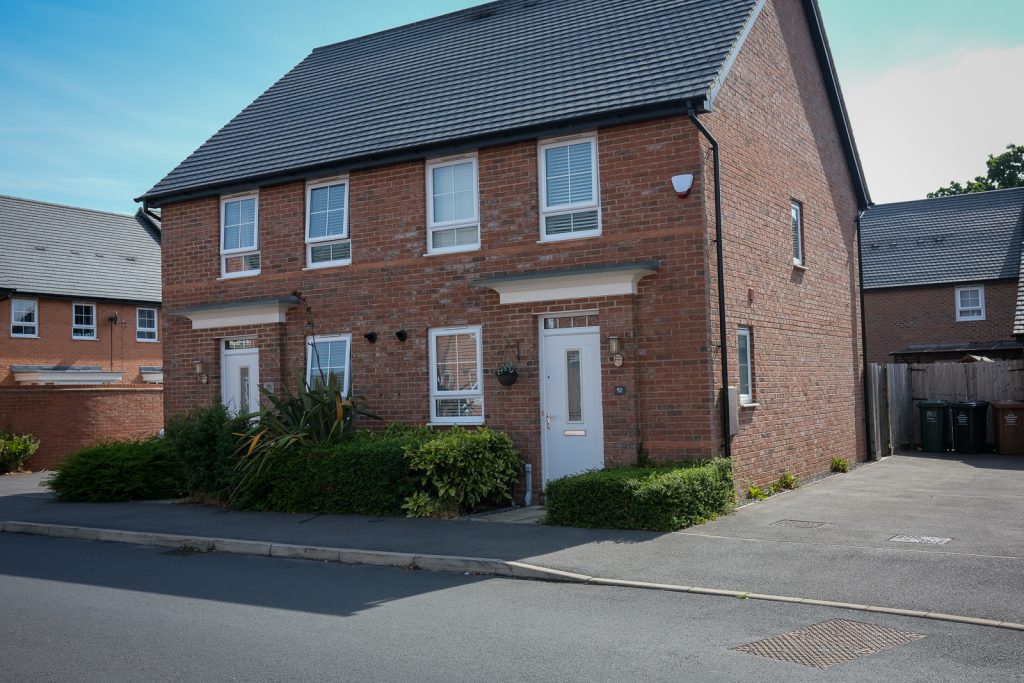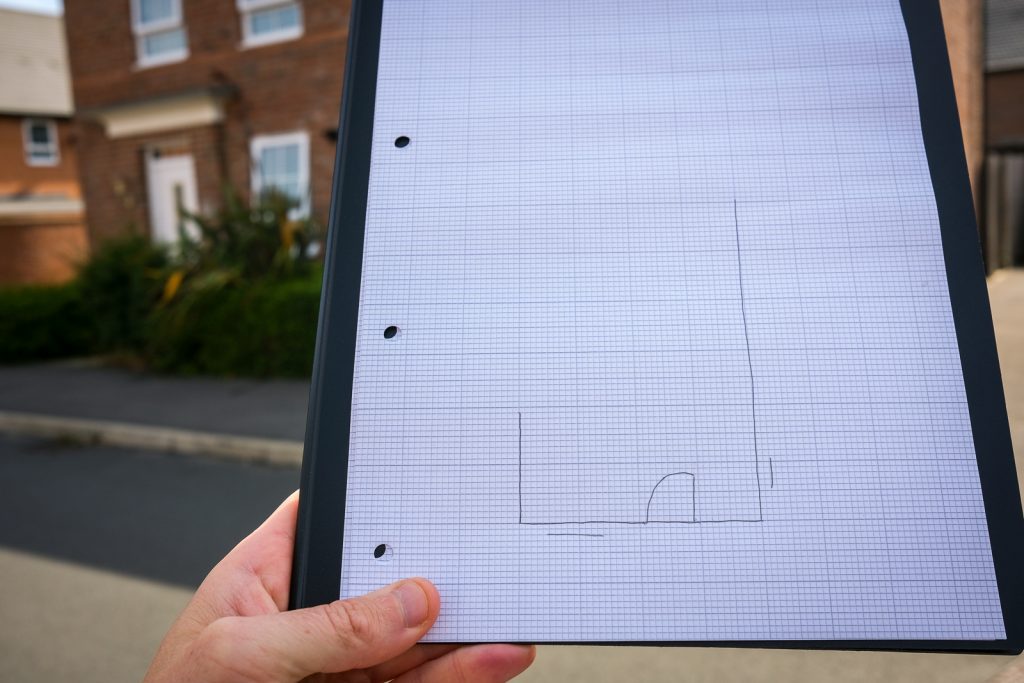 Step 2: Go inside, measure, draw and label room by room
Head inside and start to sketch out the walls. Measure as you go, taking measurements inside wall to inside wall and check your laser measure is set up correctly to measure from the bottom of the device (see the icon in the image below).
Start firing that laser measure. Place the bottom against a wall and, keeping it level and straight, aim it across to the other side of the room. Write measurements clearly on the plan next to said wall with an accuracy to 2 decimal places e.g. 4.65m.
A square/rectangular room will just need two measurements. For more complex room shapes, take a measurement of each section of wall and accompany it with a two-headed arrow indicating where it starts and ends – the more measurements the better for avoiding errors and delays later on. Measure any particularly thick walls using your clipboard to help.
Add room names and details as you go marking down things like WCs, kitchen worktops, sinks, cookers, etc. Don't forget to add the stairs. As the layout beings to snap together, the windows you marked when outside might not be fully correct, so adjust those if needed.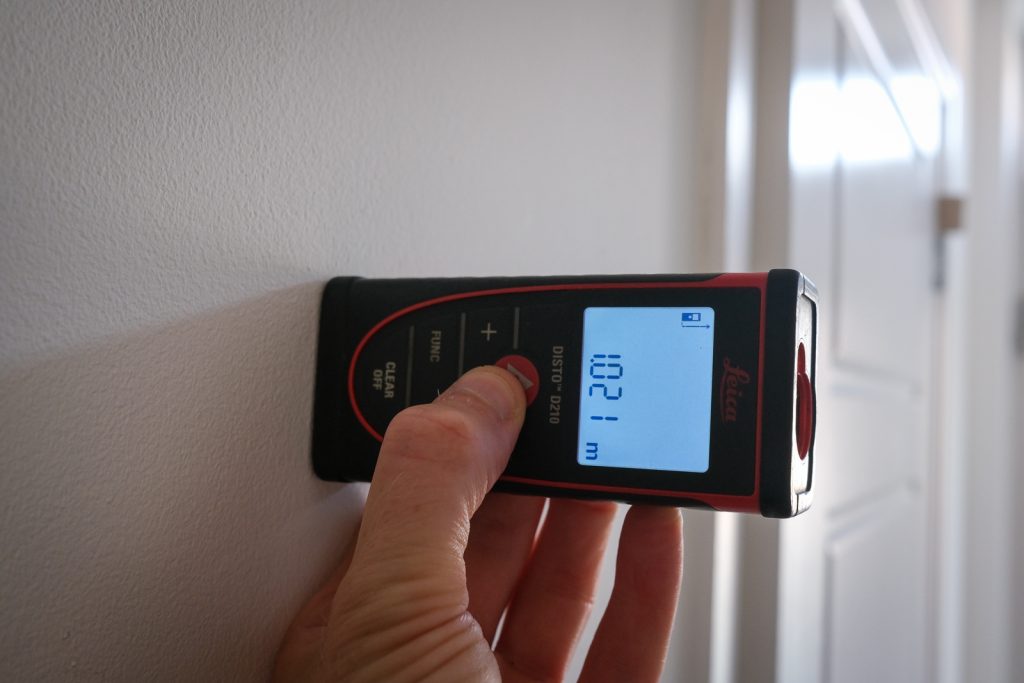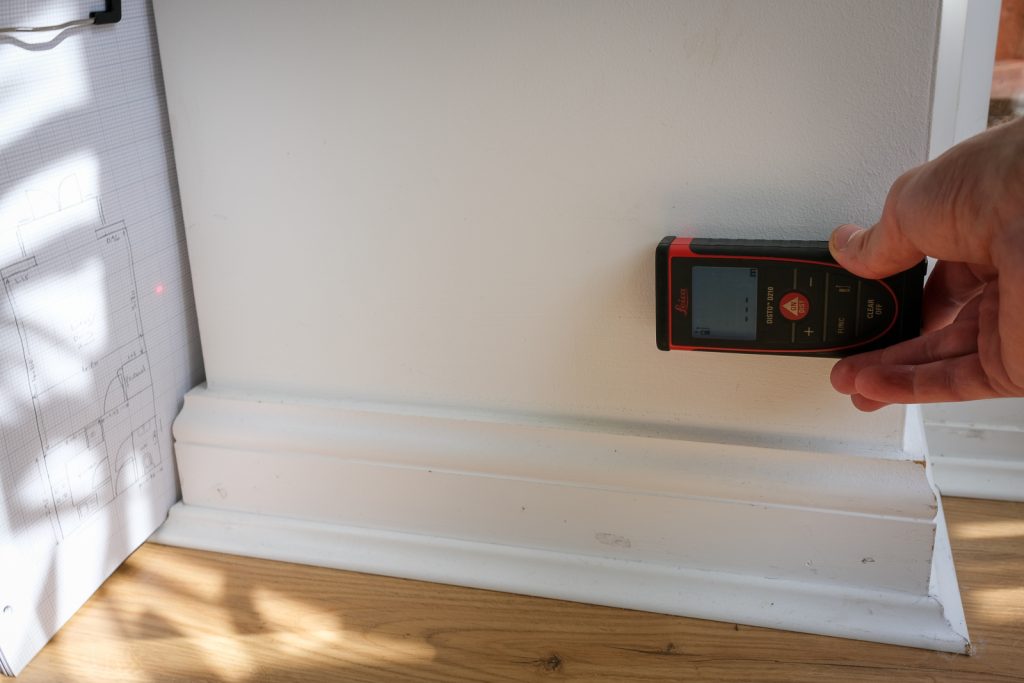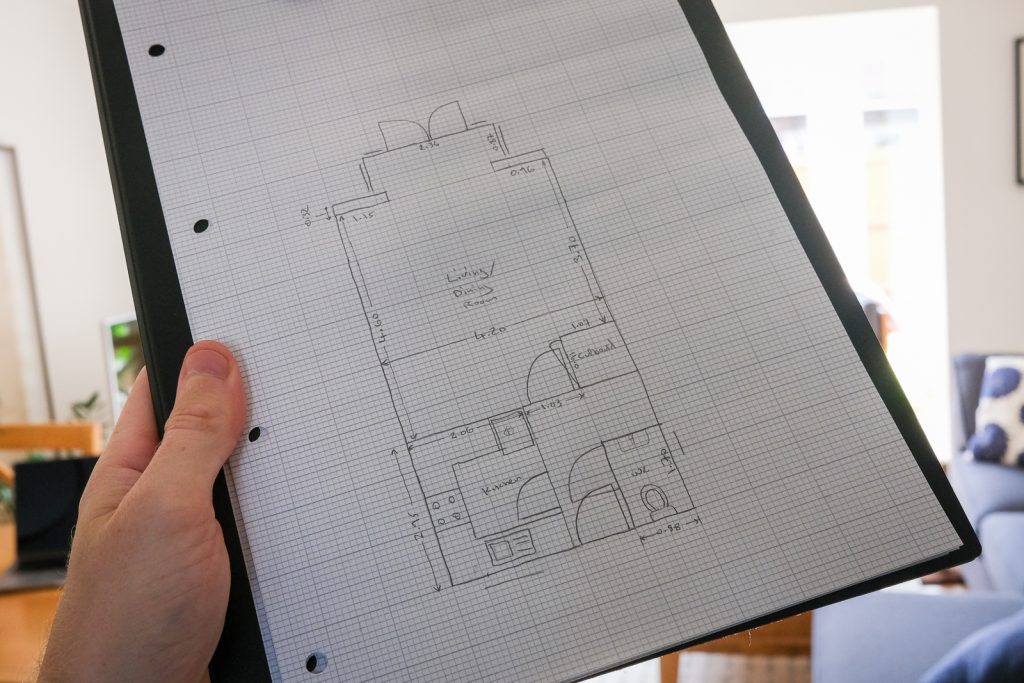 Step 3: Copy the footprint of the ground floor onto a new page
Now you've finished drawing the ground floor, fist bump your bad self 👊. You've broken the back of the job. Now you can speed through to the next floor.
See where the corners of the property's footprint are? Copy them to the page below, then join the dots and you've got your first floor.
Use your judgment to make any corrections if the floors are not exactly the same. Ground floors often have extensions or building parts that aren't present on the floor above.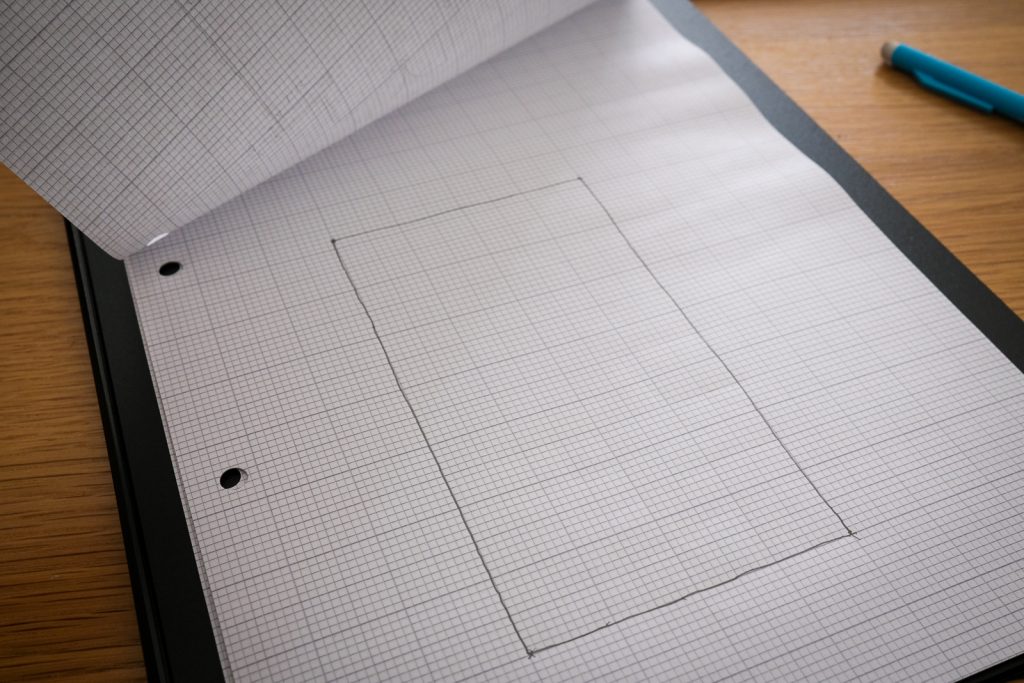 Step 4: Go outside and mark the first floor windows
Head back outside and mark where the windows are at the front of the house. Often they are right above the ground floor windows so that's nice.
In this example, look at where that tiny window is on the end elevation, knowing where that is will be super handy in a moment when it comes to making a start on the first floor.
Get to all the elevations that you can and roughly mark where the windows are.
Step 5: Measure and draw the first floor
Get yourself back inside and up the stairs. You'll see in today's example that by knowing the position of the tiny window on the stairs from Step 4, I'm confident of where the wall is that separates the end of the stairs and bedroom 3.
Then, just crack on the same as downstairs. When measuring and drawing bedrooms, pay attention to the widths of any bedroom cupboards too; make it obvious they are cupboards by drawing the door arc on the plan. As you get your bearings, tweak the positions of the windows you marked down (if needed).
In the bathroom, sketch sinks, showers and toilets as you see them.
Step 6: Final checks
You've taken the time to sketch out a banging floor plan, nice one! Please do not shoot yourself in the foot by failing to include a key dimension or forgetting something that can cause confusion when you are getting your sketch converted into a finished floor plan.
Sit down and check the following…
Each floor is labeled e.g. Ground floor, First floor etc
Each room is named e.g. Kitchen, Living room, Bedroom 1, Bathroom etc
The north arrow is included (if you want it)
Part of the address is shown – useful if drawing many floor plans each day
All dimensions are present and easy to read – very important!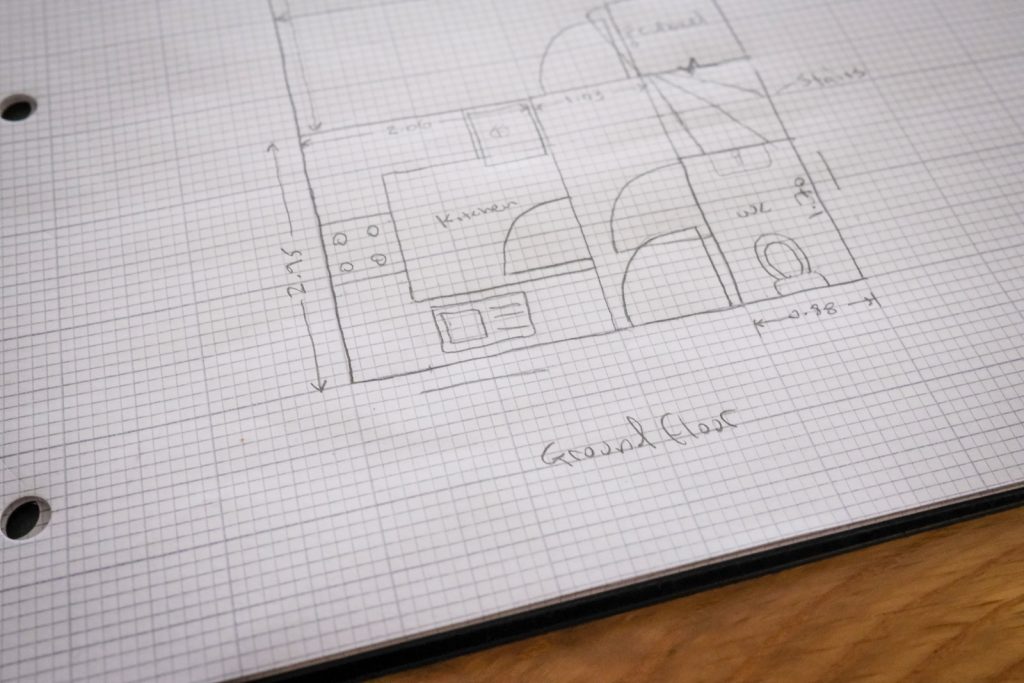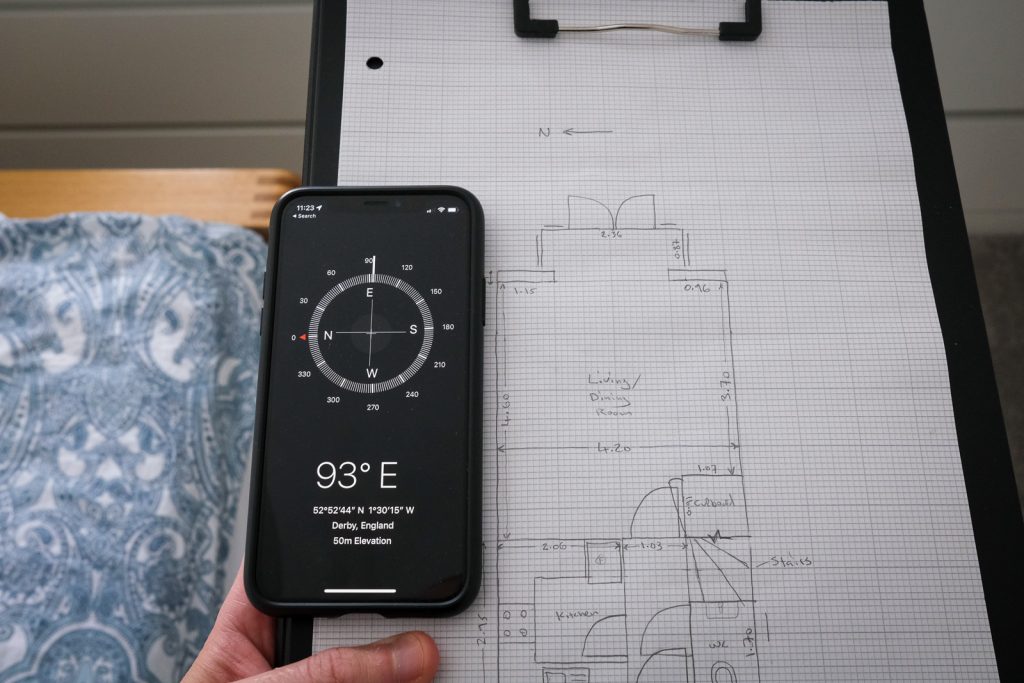 Step 7: Send for Floor plan Conversion with Elements Property
Now you can't just throw up your sketch on Rightmove so how are you going to convert your hand-drawn property sketch into a professional digital floor plan? Your options are to do that yourself or to outsource it.
Unless you get a sadistic pleasure out of using Metropix, avoid that. And unless you're happy to whittle away your valuable hours clicking away in some other floor plan creation software, you're gonna want to avoid that.
Here's where we enter stage left. Upload your sketch to Elements Property with a simple drag and drop, and in as little as just 3 hours, your finished floor plan could be back with you. Soon we'll even have a mobile app so you can upload your sketch while at the property.
You can customise the colour scheme, what to show on the plan, your (or your client's) logo, the disclaimer text, the units i.e. imperial, metric or both, the file type you want – the list goes on. It's a pretty sweet deal.
How much? Check our Pricing page. Included in the price are unlimited amendments and friendly customer support 24/7.
Want to try Floor plan Conversion for FREE? Enter BLOG28 when creating an account and you'll get 3 free orders, happy days 🙂
Try Floorplan Conversion for FREE!
Sign up for 3 free orders. No contract. No credit card.
Latest posts by Alex Stretton
(see all)
Published on 30 July 2022